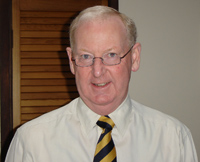 Community pharmacist and presently Secretary of the IPA. Special interests include rural pharmacy and providing locums in rural NSW. Also can't resist a locum around the Illawarra, Shoalhaven, Sapphire Coast and Far South Coast. I have been involved in pharmacy in the Illawarra for over 30 years, 5 years as a manager, over 20 years as an owner and the last 5 years as a locum pharmacist.
Community involvement includes director on the Illawarra Basketball Association board, a board member of the Illawarra Sports Stadium, a member of Wollongong Council Sports Facility Reference Group, in Scouting as Regional Commissioner for Development for the South Coast and Tablelands and a member of the Australian Scout Training team.
My interest in motor vehicles extends to Ford Capri's and am presently the vice president of the Capri Car Club of NSW. Proudly I boast two sons and daughters-in-law and two granddaughters with a third grandchild due in July.
I strongly feel the Illawarra should be represented at State and Federal levels in the PSA, Pharmacy Guild and Pharmaceutical Benefits. I am pleased to be a part of the Illawarra Pharmacists Association and encourage all pharmacists in the Illawarra to also to become involved.